Research
Migraine research is at the heart of our work
How we support research
Migraine research is very important because there is still a lot not known about this excruciating and debilitating disease that seriously impacts the lives of so many people. Research into migraine will help us to understand what causes it and how migraine attacks happen. This could mean that new and better treatments can be developed. It could eventually lead to a cure for migraine being found.
Since 1965, we have funded over 140 research projects, which have helped to develop the careers of migraine researchers and provided researchers and clinicians with a far greater understanding of the mechanisms and causes of this debilitating disease and encouraging the next generation of migraine specialists.
Funding research
Our research projects seek to improve the management and treatment of migraine and to find a cure. We have contributed to research that has improved understanding of migraine pathophysiology and treatment. We have funded:
Research that identified pain nerves in the head as being crucial targets for migraine treatment, paving the way for triptans to move from a blood vessel to a brain target.
Studies that explored and promoted the development of ditans and gepants, new classes of acute migraine treatment.
Experimental work to understand the role of calcitonin gene-related peptide (CGRP) in migraine and cluster headache, paving the way for the development of CGRP pathway targeted preventive treatments.
Human brain imaging studies to understand and characterise the pathways crucial to the disorder.
Supported basic scientists and clinical scientists with career awards for their research.
Our latest PhD studentship was awarded to a project that is being led by Dr Jan Hoffmann and Dr Philip Holland at the Institute of Psychiatry, Psychology and Neuroscience, King's College London. The project is 'The neurophysiological role of amylin in migraine' and the studentship was awarded to neuroscientist Hannah Creeney who commenced her research in September 2019.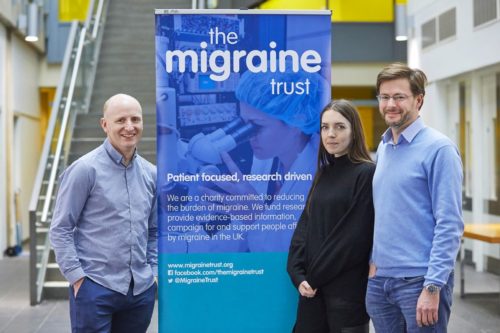 Amylin is a neuropeptide that is known to have similar mechanisms to calcitonin gene-related peptide (CGRP), a neuropeptide that is released during migraine attacks and can increase the activation of the nerves that relay headache and facial pain signals to the brain. Amylin and CGRP bind to each other's receptor and this research will examine if amylin's actions on these receptors are relevant for migraine. The research aims to determine if an increased understanding of amylin could lead to a new treatment for migraine.
International research symposium
We hold an international symposium every two years, bringing together the world's leading experts on headache and migraine to share latest research findings and discuss current trends in treatment and prevention. It was successfully delivered in 2022 and the 19th Migraine Trust International Symposium (MTIS) will take place in September 2024.
Research about living with migraine
We also generate new evidence about the UK's migraine population to inform national policy decisions that impact our community, reform NHS practice so it works better for migraine patients, and ensure that we're representing the voices of all people affected by migraine in the information, advocacy, and campaigning content we produce.
Clinical trials
We also ensure that patients are able to take part in clinical and academic research by promoting new opportunities via our monthly ebulletin, website, and other communications channels.
You can apply to promote your research here.
You can view the current clinical trials here.
"Migraine is giving up its secrets to our research efforts and this will benefit our patients now and their children in the future."
Association of Medical Research Charities (AMRC) membership
The Migraine Trust is a member of the Association of Medical Research Charities (AMRC) and has passed the AMRC best practice in medical and health research peer review audit. As an AMRC member, The Migraine Trust supports the AMRC position statement on the use of animals in research. Our full position statement is available to download below.
Scientific Research Committee
Our Scientific Research Committee, which consists of scientific and medical experts and lay representatives, oversees our research programme. All members of the Scientific Research Committee adhere to our conflicts of interest policy.
Professor Andrew Charles, M.D. (Chair)
Director, UCLA Headache Research and Treatment Program, David Geffen School of Medicine, Los Angeles
Professor Peter J Goadsby
Professor of Neurology, King's College London, and Director, NIHR-Wellcome Trust Clinical Research Facility, King's College Hospital, London
Dr Shazia Afridi
Consultant Neurologist at Guy's and St Thomas' NHS Trust, London
Dr Farooq Maniyar
Consultant Neurologist at the Royal London Hospital (Barts Health NHS Trust) and Basildon and Thurrock University Hospitals
Dr Prab Prabhakar
Consultant Paediatric Neurologist at Great Ormond Street Hospital, London
Ria Bhola
Headache Nurse Specialist, The Migraine Trust
Patient representative
A member of The Migraine Trust's Involvement Panel